A priest has been killed at a Catholic church in northern France during a suspected Islamist terror attack by men armed with knives.
The French interior ministry said the murdered man was among nuns and worshippers taken hostage on Tuesday morning, while a second victim was in a life-threatening condition. Three others were freed unharmed.
The elderly priest, who had served the local area for decades, reportedly had his throat slit by the attackers.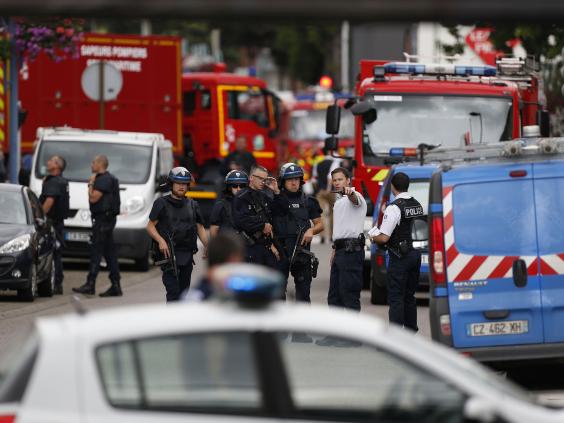 Eulalie Garcia, who works in a nearby beauty parlour, told reporters he was well-known by locals.
"My family has lived here for 35 years and we have always known him," she said. "He was someone who was treasured by the community. He was very discreet and didn't like to draw attention to himself."
Ms Garcia said she was shocked by the murder of the priest, who lived opposite his church. "It can happen to anyone," she added.
The two attackers stormed the church in Saint-Etienne-du-Rouvray during a service at around 10am local time (9am BST), taking the priest, two nuns and several members of the congregation hostage.
The crisis continued for around an hour before the armed men were shot dead by police when they emerged in a courtyard outside the church.
Police said officers"neutralised" both attackers an operation near Rouen, Normandy, on Tuesday morning and a terror investigation has been launched.
Speaking at the scene of the attack, interior ministry spokesman Pierre-Henry Brandet said the church was being searched for bombs and booby traps as forensic investigations continued.
President Francois Hollande and Bernard Cazeneuve, the French interior minister, were due to visit the scene of the attack later in the day.
Manuel Valls, France's Prime Minister, wrote on Twitter: "Horror in the face of the barbaric attack on a church in Seine-Maritime. All of France and all Catholics are wounded. We stand together."
Police sources said one of the men was wearing clothing signifying he was a Muslim but there was no immediate claim of responsibility from terror groups.
The Paris prosecutor said the incident was being investigated by the national counter-terrorism task force (SDAT) and the General Directorate for Internal Security (DGSI) intelligence agency.
The Vatican condemned the "barbarous killing", while the Archbishop of Canterbury, Justin Welby, wrote on Twitter: "Evil attacks the weakest, denies truth and love, is defeated through Jesus Christ. Pray for France, for victims, for their communities."
The incident came under a fortnight after the Nice attack, when 84 people were killed and more than 300 injured by an Isis supporter who drove a lorry into crowds celebrating Bastille Day.
France has been on high alert since the so-called Islamic State's bombings and shootings in Paris on 13 November last year.